Discover more from The Chatner
A newsletter about rejiggered classics, transmasculine underpinnings of the plucky heroine, and the failure-limits of graciousness, from table manners to family estrangement.
Over 18,000 subscribers
Every Time Someone Dresses Like A Boy In Daphne Du Maurier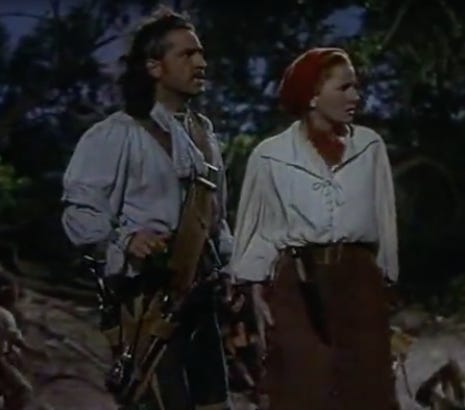 ARE YOU A PROTAGONIST IN A DAPHNE DU MAURIER NOVEL? DO YOU HAVE A PROBLEM, SUCH AS GOING TO CORNWALL OR A MAN LOOKED AT YOU? PERHAPS YOU STRUGGLE WITH FEMALE RELATIVE OR LIVING NEAR THE SEA?
WHY NOT TRY: "DRESSING LIKE A BOY" ABOUT IT?
CONSIDER "DRESSING LIKE A BOY" FOR ALL YOUR PROBLEM NEEDS: RUDE SERVANTS, DISAPPOINTED CHILDHOOD HOPES, HAVING BROTHERS, 18TH CENTURY, BAD HANDWRITING, ET CETERA. YES, "DRESSING LIKE A BOY" CAN SUIT ALL YOUR PROBLEMS, NO PROBLEM, DON'T DELAY, HANDS IN POCKETS NOW. WHY NOT BE A BOY AND GO TO SEA?
The compatibility of writing and femininity was always a treacherous issue for du Maurier herself, who often said that she wished she had been born a boy, a wish her father Gerald confessed to sharing in a poem he wrote for her as a child. Daphne felt ambivalent about her roles as a woman and a writer, an ambivalence that was reinforced in later life by her sexual feelings for Ellen and Gertrude. The first time she met Ellen, Daphne confessed that she felt "a boy of eighteen again with her nervous hands and a beating heart." "Again" is the telling word. As a child, Daphne had apparently convinced herself that she was a boy, and her biographer Margaret Forster comments on the devastating psychological consequences of puberty on this belief.
—Lisa Hilton, foreward, in Daphne Du Maurier's Mary Anne
IF ONLY THERE WERE A WORD FOR THAT
AT THIS POINT IF YOU WRITE ABOUT DAPHNE DU MAURIER AND THE WORDS "TRANSMASCULINE RESONANCE" DO NOT APPEAR AT LEAST ONCE I SHALL THINK YOU VERY SILLY
---
"I want you to tell him that his presence is urgently required on board his ship. Make up any story you like, play any part you have a fancy for. But keep in the shadow. You are a passable enough cabin boy in darkness, but a woman under the light."
---
She went towards him a little nervously, feeling small and rather lost in Pierre Blanc's breeches, while his shoes cut her heels, a secret she must keep to herself. He ran his eye over her and then nodded briefly. "You will do," he said, "but you would not pass in moonlight," and she laughed up at him, and climbed down into the boat with the rest of the men.
Pierre Blanc himself was crouching in the bows of the boat like a monkey, and when he saw her he closed one eye, and put one hand over his heart. There was a ripple of laughter in the boat, and one and all they smiled at her with a mingled admiration and familiarity that could not offend, and she smiled back at them, leaning back in the stern thwart and clasping her knees with a lovely freedom, no longer hampered by petticoats and ribbons. Dona trailed her hand a moment in the water, which was warm, with a velvet softness about it, the phosphorescence gleaming like a shower of stars, and she thought, smiling to herself in the darkness, that at last she was playing the part of a boy, which as a child she had so often longed to be, watching her brothers ride off with her father, and she gazing after them with resentful eyes.
---
She wished suddenly, and with passion, to be a fisherman, burned black with wind and sea, dressed in red sailcloth trousers and wearing clogs.
---
"Come below," he said quietly, and she followed him, feeling subdued suddenly like a pupil who was to receive chastisement from his master, and she wondered how she would answer him should he chide her for her fear. It was dark in the cabin, two candles gave a feeble glow, and he sat down on the edge of the table considering her, while she stood in front of him, her hands behind her back.
"You have remembered that you are Dona St. Columb," he said. "Yes," she answered. "And you have been wishing, up there on the deck, that you were safe home again, and had never set eyes on La Mouette." There was no reply to this, the first part of his sentence might be true, but the last could never be.
There was silence between them for a moment, and she wondered if all women, when in love, were torn between two impulses, a longing to throw modesty and reserve to the winds and confess everything, and an equal determination to conceal the love forever, to be cool, aloof, utterly detached, to die rather than admit a thing so personal, so intimate. She wished she were somewhere else, whistling carelessly, hands stuck into breeches pockets, discussing with the captain of the ship the schemes and possibilities of the coming night, or that he was different, another personality, someone for whom she felt no concern.
---
So you see, my Dona, there is no escape for a woman, only for a night and for a day."
"No, you are right," she said, "there is no escape for a woman. Therefore if I sail with you again I shall be a cabin boy, and borrow Pierre Blanc's breeches once and for always, and there will be no complications of a primitive nature, so that our hearts and our minds can be easy, and you can seize ships and make your landings on the coast, and I, the humble cabin boy, will brew your supper for you in the cabin, and ask no questions, and hold no conversation with you."
"And how long would we endure that, you and I?"
"For as long as we pleased."
---
Back in the bedroom Maria was changing feverishly. She had taken off her party frock and hidden it in the dirty clothes basket, and she was dressing up in the velvet suit that she had worn for fancy dress at the New Year. It was a page's costume, hired at great expense, and Truda had packed it in a dress-box, tied and labeled, ready to return to the shop. There was a striped doublet and short, puffy trunks, and a pair of long silk hose, and best of all a cape that was worn thrown back from the shoulders. Round the waist was a sling, and stuck into it a painted dagger. The suit fitted perfectly, and as Maria stared at herself in the glass all her excitement returned. She was happy, nothing mattered, and she was not Maria any longer, a dull little girl in a stupid party frock. She was a page, and her name was Edouard. She paced up and down the room talking to herself, stabbing the air with her dagger.
---
Smiling to herself she drew out the rough stockings, the worn breeches, and the patched though gaily colored shirt. She remembered his look of embarrassment as he had given them to her, and his words: "These are the best Grace can do for you, my lady, they belong to her brother."
"They are perfect, William," she had replied, "and Pierre Blanc himself could have done no better." For she must play the boy again, for the last time.
---
She looked very pale, very thin. She began walking up and down the room, her hands in the pockets of her trousers. She looked like a boy in her sailing kit, a boy with a face like a Botticelli angel.
---
We stole along, in our nightclothes. Maria, her fair hair short and curling like a boy's, wearing her own nightgown tucked into a pair of Niall's striped pajamas.
---
"The Lady St. Columb," she said, "will become a gracious matron, and smile upon her servants, and her tenants, and the village folk, and one day she will have grandchildren about her knee, and will tell them the story of a pirate who escaped." "And what will happen to the cabin boy?" he asked. "The cabin boy will vigil sometimes in the night, and tear his nails, and beat his pillow, and then he will fall asleep perhaps, and dream again."
"Play your own game by yourself, then, and leave me to play mine," he told her. "If you must be a boy, I can't stop you."
---
DO IT
DO IT NOW
PUT ON SOME BREECHES AND LAUGH CARELESSLY AS YOU SLIP OUT THE WINDOW
GO TO CORNWALL
BE A SAILOR
DO IT
DO IT
DO IT
IT'S HAPPENING ALREADY
THE BOY IS RUNNING FOR THE SEA AND HE IS GOING TO DATE THE FIRST SEA CAPTAIN WHO PLUCKS HIM OUT OF THE WATER
© Du Maurier, Cabin Boy Hypnosis Productions, HypnoHism Studios, 1944
Frenchman's Creek, Jamaica Inn, Rebecca, The Parasites