Discover more from The Chatner
A newsletter about rejiggered classics, transmasculine underpinnings of the plucky heroine, and the failure-limits of graciousness, from table manners to family estrangement.
Over 18,000 subscribers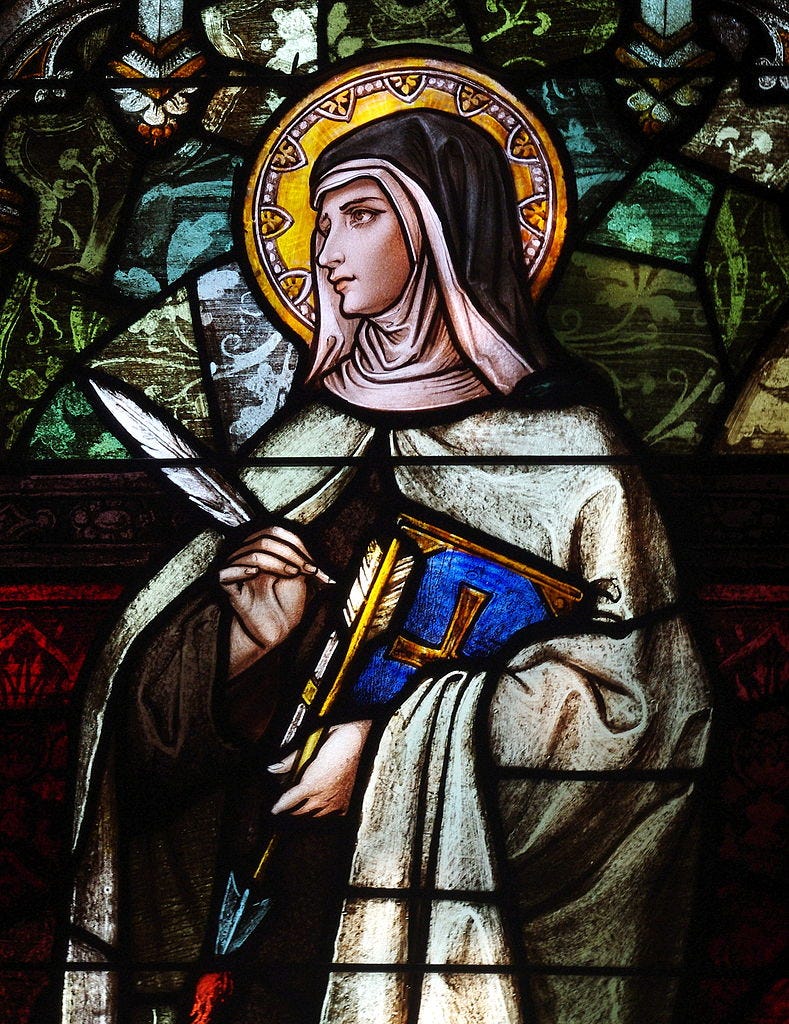 I've written already about my novel-in-progress on monastic small-mindedness; monastics interest me a great deal, dedicated as they are to the properties of attention, and I'm interested in how the contemporaries of the "greats" might have felt about their proximity to sainthood, to what degree they might have found themselves pushed either to imitate or to denigrate it in favor of something less flashy.
The Public Domain Review published last week an article about Teresa of Avila's complicated complaints about her own levitation1 that particularly interested me. In her Life she writes about periodically levitating against her will, in a way she finds both astonishing and sometimes unwelcome; it's no surprise that she stresses her unwillingness to be levitated, since she wrote in order to dispel suspicions that these fits might have been a put-on, or that she sought them out for attention. And yet even self-forgetting can become so conspicuous that I can imagine it might grate on the ears of a quieter, less-frequently-earthquaked fellow Carmelite.
I am sure it is possible even for monks and nuns to become competitive with one another; I am equally sure it is possible to become competitive over displays of humility. I can also imagine the kind of person who might make a very good nun indeed, sober and fastidious and heavenly-minded, who nevertheless finds that forbearance towards Teresa of Avila arrives as one of the very last gifts of God after years of struggle, rather than among the first fruits of prayer. She is, after all, the patron saint of "people ridiculed for their piety," and there is a great distinction to be made between ignoring and courting ridicule. (I sometimes suspect a more talented saint could have produced the same virtue without inviting the same censure from her fellows; what one nowadays might call a "skill issue.") I myself very often want holiness for myself, but resent it hugely in others, and I have not even taken vows.
And there is, of course, a topsy-turvy formula for boasting without appearing to boast here — in monastic terms, describing oneself as the worst of sinners, more craven and wretched than any other, goes a long way towards puffing oneself up, because it naturally follows that God will work his greatest and most unexpected miracles in you, who need him more than anyone even slightly less despicable. A neat little trick! And, of course, it indirectly faults anyone around you who is not equally hard on themselves, and so by your own insistence on your moral degradation, you can effectively shame everyone else in the monastery for being less scrupulous than you are. The flip side, of course, is that dwelling on the possibility of self-serving motives in someone else's spiritual growth is absolutely ruinous to one's own, and tries to makes a virtue out of hatred and envy.
You can read St. Teresa's Life here — I find it, depending on my own mood and sense of charitableness towards others, remarkably affecting and irritatingly self-loathing in turns. Teresa, what a soul! — Teresa, get over yourself!
Year of Our Lord 1565, Lazarus Saturday.
She floated again today. I have ceased to hope that anyone at St. Joseph's is going to do anything about it, but have been nonetheless encouraged to keep a regular diary of the dates and occasions of Teresa's disruptions in the hopes of establishing a consistent pattern that might eventually persuade the College of Bishops to intervene. As I said, today she floated sometime after terce, which made work in the garden impossible for an hour.
Four days before Palm Sunday.
We have acquired for ourselves a copy of Teresa's own Life, although I am convinced if she knew of it, she would probably beg us to burn it. Nothing unexpected so far in chapter one — Her mother and father, you will not be at all surprised to learn, were both beautiful and virtuous, her mother to such an extent that she died shortly after turning thirty, a clear indicator of being too good for this earth. And would you believe it — Teresa writes that she was a particularly wretched child, worse than usual, and scarcely deserving the parents she had. What are the odds!
Three days before Palm Sunday.
Chapter two today. Teresa still litigates the sins of her childhood, and accuses her past self of being too neat:
I took pains with my hands and my hair, used perfumes, and all vanities within my reach--and they were many, for I was very much given to them. I had no evil intention, because I never wished any one to offend God for me. This fastidiousness of excessive neatness lasted some years; and so also did other practices, which I thought then were not at all sinful; now, I see how wrong all this must have been.
Presumably she also helped too many old ladies cross the street, rescued too many kittens trapped in trees, and helped her mother with the dishes too often. It is itself a miracle that no one ever snuck a toad into her miserable, neat little bed.
Two days before Palm Sunday.
No time for reading today. T. again floated after terce, this time in the kitchens, which meant no bread at dinner. The worst part of these levitations, I think, is trying to work around her while she weeps and begs your forgiveness: "Please, do not look at me! I am God's dog, and not worthy to float over the lowliest worm. Pretend I am not here," and so on, while meanwhile she's crying so hard into the dough that the yeast stalls and the whole thing has to be thrown out.2
Great and Holy Monday.
Chapter three:
The devil put before me that I could not endure the trials of the religious life, because of my delicate nurture. I defended myself against him by alleging the trials which Christ endured, and that it was not much for me to suffer something for His sake; besides, He would help me to bear it. I must have thought so, but I do not remember this consideration. I endured many temptations during these days. I was subject to fainting-fits, attended with fever, — for my health was always weak.
Here she compares having a rich father with the life of Christ. God save us from saints like Teresa. Why does he not make her levitate a little higher up, and rapture her away from us a season or two early, if he is so fond of her? Celeste, who has been sanding the walls in the sewing-room, says that Teresa's health is always weakest just when there is heavy work to be done, and curiously robust in times of public prayer, and Celeste is as honest as the day is long.
"The fainting-fits began to be more frequent; and my heart was so seriously affected, that every one who saw it was alarmed; and I had also many other ailments. And thus it was I spent the first year, having very bad health, though I do not think I offended God in it much."
Oh! Well, if she doesn't think she offended God very much —
Great Tuesday.
Celeste says you can see the outline of Teresa's hairshirt poking out from under her habit, which surely defeats the purpose of wearing a hairshirt. Reading today from Isaiah.
Spy Wednesday.
Chapters four and five very much the same. Her soul is full of violence which no one can see, there is no suffering too great to undertake for Our Lord, there is practically nothing Teresa can speak of without tears, but she faults herself for crying mere tears of water and not tears of blood, and her health is still very bad, such that she can scarcely understand how she endured this period of her life, nor can I understand how I shall endure reading about it.
Sheer Thursday.
Floated twice before dinner and once during Maundy. You can well imagine how long it took to scrub the soap out of the nave. Very tiresome chapter about a friendship with a priest who "had been most diligent in the service of God; and as for that great affection he had for me, I never observed anything wrong in it, though it might have been of greater purity."
Which is it, Teresa! He did nothing wrong? Or he could have loved you with a greater purity? Anything that falls short of the mark of perfection is a sin, remember!!!
By my count she has almost died at least seven times already from her many and great sufferings. Has anyone come so often and so close to death without drinking completely from its cup? One would think she had no strength left to lose, and yet she does!
Easter Tuesday.
Have been unable to write, working extra shifts in the infirmary to make up for Teresa's absence. If only we could harness her floating, like a watermill, and get some use out of it.
Easter Saturday.
Get this!!!
"I have never been able to form friendship with, nor have any comfort in, nor any particular love for, any persons whatever except those who, as I believe, love God, and who strive to serve Him. It has not been in my power to do it. It is nothing to me that they are my kindred, or my friends, if I do not know them to be lovers of God, or persons given to prayer."
Isn't that a neat little trick! If Teresa doesn't like you, it's because you don't love God! Nothing within her control at all — nothing to do with personal taste or anything like hardness of heart towards her fellow-man — no, she is God's bloodhound, and she'll sniff you out in a second, through no power of her own, mind you, as accurate as noon or Christ or sunset she'll know the true orientation of your heart, and whether you pray enough — Lord, hear my prayer, and next time you see fit to levitate Sister Teresa, kindly drop her.
Second Sunday of Easter.
"It is in rapture that true humility is acquired — humility that will never say any good of self, nor suffer others to do so. The Lord of the garden, not the soul, distributes the fruit thereof, and so none remains in its hands; all the good it has, it refers to God; if it says anything about itself, it is for His glory."
She admits it! She says it herself! The only way to achieve true humility — unlike our humility, which is apparently a worthless counterfeit, according to She whom Heaven sees fit to bounce around like a tennis-ball — is one of Teresa's little raptures! So anyone whom God does not see fit to seize up into the rafters when they are supposed to be working, for example, cannot truly know humility as she knows it!
That does it. Starting tomorrow I'm going to come down with a case of holy fits too. And the Lord will inspire my unworthy limbs to move against my will and kick whoever happens to be standing nearest me, as a reminder of our dear Lord who was kicked by the world in Gethsemane.
[Image via]
1
For a basic rundown on Christian levitation, click here.